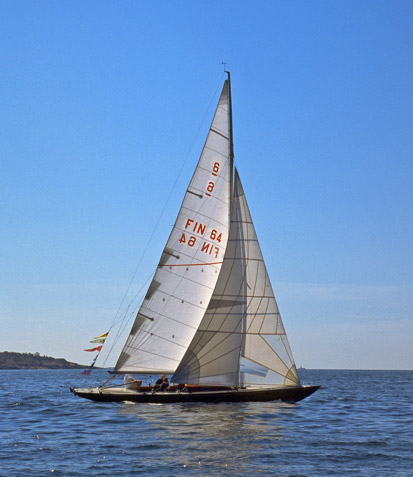 HISTORY
2018 measurement
Lengde 10.948, girth 1/4 G 0.827, differanse 2d 0.040, sailarea sqrt S 6.515, fribord F 0.763
DNV NorwayThey found drawings and some other documents for a 6 mR yacht built by Anker & Jensen in 1928 ?
BEST RACE?
RECENT YEARS
Emzia has been sailing as a holiday family yacht.
CREW FOR 2019 SEASON
Antti Aliklaavu

AIMS & GOALS FOR NEAR FUTURE
To get her original shape back again.
FORMER NAMES AND OWNERS
Nr Names Locations Owner Years
....
S 32 EMZIA, Göteborg ? Lennart Sterner 1972-74
S 32 EMZIA Sweden ? G Karsson 1974-?
S 32 EMZIA, SXK Stockholm Lennart Petterson & Lena Thulin 1981-93
S 32 EMZIA SXK Stockholm Jens Ugland & Anita Thulin 1991-93
S 32 EMZIA ÅSS Stockholm Mikael Brodin 1993-95
S 32 EMZIA Stockholm Pekka Ollakka 1994 -
S 32 EMZIA Salo Heikki Peura 1994-96
FIN 64 EMZIA SPS Helsinki SPS Antti Aliklaavu, 1996 -